Hello, and welcome back!
If you have been reading our latest posts, you may have noticed how wide the world of radio control cars is.
You are thinking of buying RC cars? Then you may have some doubts.
Do you need a basic guide to buy RC cars? Then, go on reading.



Radio Control cars types
In previous posts, we already mentioned that there are different types of radio controlled cars, that is, you have explosion engines and electric motors.
For each of them you will find different styles of cars (or driving), such as off-roaders, drifts, buggies…
Each of these cars is designed for a different use and for a different terrain, so it is important to decide what you will use it for, or what you like the most.
Size is also critical as you have to think about storage and weight to transport it wherever you want to run.


Steps before buying RC cars
1. Choose the motor type
The first thing you must do is choose one of the two types of motor.
Nitro (or gasoline) RC cars have high performance and speed, but they are not suitable for beginners. Also, they have more wear and tear and need more maintenance.
Battery-powered RC cars are easier to use and maintain, and also have high power and performance.
With this data, choose the type of motor that you consider best for you, always taking into account the time you can dedicate to your hobby and your experience.


2. How long do you want to work on your RC car?
One thing to keep in mind is that not all cars come ready to run.
You can choose between buying kits and building them from scratch with your hands, bringing your car to life.
Or being practical and choose Ready-to-Run (RTR), cars that are assembled and ready to launch into the fun.
All RC Bonzai cars are Ready-to-Run, but you can change the parts you need with the large number of upgrades and spare parts for vehicles that we have.


3. Decide how you will use it
You have to choose the style of car that you like the most.
In the entry about the novelties of bonzai RC cars, we made a list of the different types according to their use and the terrain for which they are prepared.
You have remote control cars to run on road (drift and touring) and cars for outdoors (buggy, monster truck and crawler).
Choose it according to how you want to enjoy it!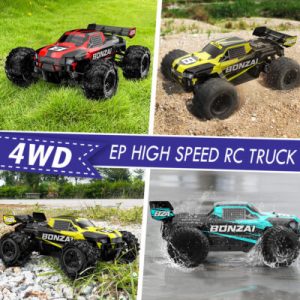 4. Choose the size
Not all radio controlled cars have the same size.
At RC Bonzai, for example, we have 1/12 scale cars and 1/14 scale cars.
The bigger the number next to 1 is, the smaller the car is.
You should think about the space you have to store it, and also about the weight if you are going to take it often.


5. Set a budget
The final point is to set a budget.
This will help you to compare different options.
We all know that the price is decisive for the purchase.



Tips to keep in mind when buying RC cars
Following the previous steps, we list  some extra tips that you have to take into account when buying RC cars:
If you will be the only user the radio control car.
Space you have at home to store, maintain and run your car.
The time you are going to dedicate to it.
The reliability of the brands you compare.
If you have doubts, ask an expert to make sure.
Now you are ready to get your own remote control car!



Do you want to feel the adrenaline with radio control cars? We help you at RC Bonzai
We hope that our basic guide has been helpful for you.
At RC Bonzai, we have more than 25 years of experience in the manufacture of radio controlcars.
If you need help or more information about remote control cars, contact us and we will be happy to answer all your questions.
So what are you waiting for?
Dare to feel the speed!